On Friday, Sam and several other actors such as Bertie Carvel, Rory Kinnear, Tobias Menzies, Hattie Morahan, Simon Russell Beale, John Simm and Ben Whishaw, performed in a reading of
The Iliad
at the British Museum and at the Almeida. The performance was live streamed. A series of podcasts and a making-of film are forthcoming.
Suffragette
will open this year's London Film Festival (
Prolific North
). Sam has described his role in the film as "small and cross" (his Twitter, @
exitthelemming
). Click below for screencaps of him in the
trailer
.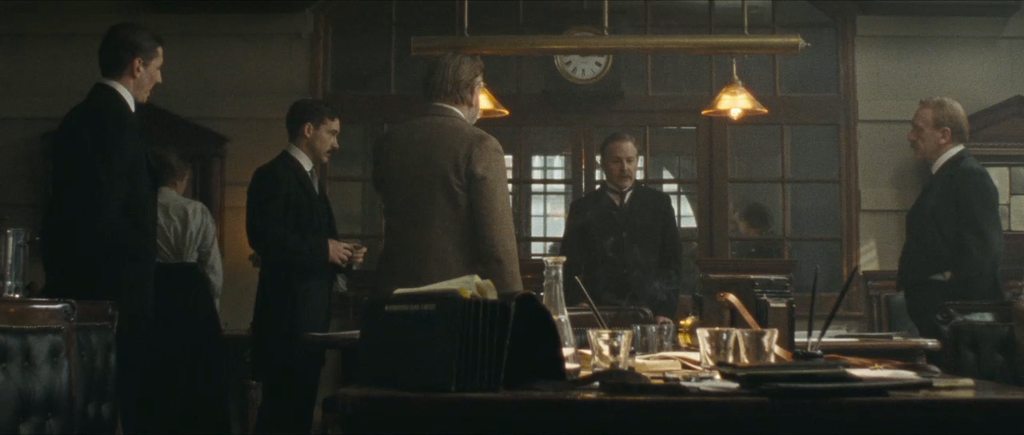 He will feature in series 3 of
Great Canal Journeys
(his Twitter, @
exitthelemming
). Meanwhile, series 1 is being repeated on Channel 4 from 15 August (
Radio Times
).
Sam narrates a series of videos on
The Road to Agincourt
website. He plays the chronicler who wrote
Gesta Henrici Quinti
, a work
about the deeds of Henry V (via the
Daily Echo
).
In July, he played the Father in
An Oak Tree
at the National Theatre. The play is a two-hander by
Tim Crouch
, who plays the Hypnotist. The Father is played by a different guest actor at each performance; at the National, guest actors included John Heffernan, Samuel Barnett and Trystan Gravelle.
Sam
tweeted
that the play was "Beautiful, useful and never to be forgotten" and Tim
tweeted
that the performance was "a very special evening." Here is a selection of tweets about the performance:
@exitthelemming

Saw you perform in An Oak Tree tonight, absolutely amazing! Undoubtedly one of the best shows I've seen in London congrats!

— Lydia-Rachel (@Lydia_Actor) July 15, 2015
— Jack Tarlton (@jacktarlton) July 15, 2015
— Hugh Sachs (@HughSachs) July 15, 2015
In May, Sam narrated
Morning Heroes
by Bliss with the BBC Symphony Orchestra. Here is a review round up of the performance.
Music OMH
"Samuel West brought just the right level of philosophical pathos to the words..."
The Guardian
Seen and Heard
"Samuel West struck just the right balance of eloquence and dignity of delivery..."
The Arts Desk
"Most personal and affecting were the work's prologue and epilogue, calling upon Sam West with subtly scored orations of Hector's Farewell to Andromache and Owen's Spring Offensive."
**********
A few days ago, We Love Hackney
tweeted
a picture of Sam at a campaign launch - the local council is planning to restrict opening hours of clubs and music venues.
In July, Sam received an honorary degree from the University of East Anglia (
BBC
). The audio from his speech is
here
. He also tweeted a
picture
of himself from the ceremony.
Voices for the Library shared a
piece
by Sam about why he values his local library (via their Twitter @
VftL_UK
).
The Southbank Centre tweeted a
picture
of Sam reading at a Make Apartheid History event. Excerpts from the readings have been posted on
Youtube
(via
Artists for Palestine
).
Sam participated in a march against austerity in London 20 June (@
fugueur
). Participants opposed public sector cuts in areas such as welfare, health and education (
ABC
).