[updated 6 July]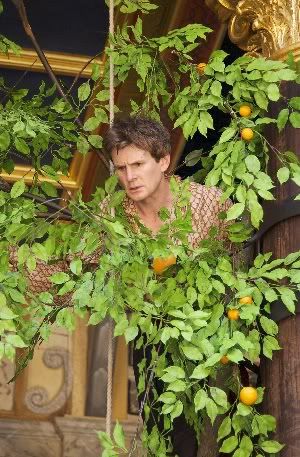 Photo: Manuel Harlan. Source: Shakespeare's Globe Press Office - used with permission.
Interview
Official London Theatre Guide
Pictures
Geraint Lewis
Pete Jones
Reviews
Playbill
"Eve Best and Charles Edwards have a goofy sweetness laced with a gravity that will win hearts and minds all summer long."
Nouse
"Edwards and Best are both effortlessly skilled in their comic timing and impeccably in character."
Observer
"[Eve Best's Beatrice is] well matched by Charles Edwards's Benedick."
John Morrison
"Beatrice and Benedick are played in exhilarating comic style by Eve Best and Charles Edwards."
Curtain Up
"Eve Best as Beatrice and Charles Edwards as Benedick create a romantic comedy duo that cannot be faulted."
Independent
"This glorious Globe staging stars the sublime Eve Best and that great, underrated comic/ romantic actor Charles Edwards as those bickering, ostensibly reluctant lovers, Beatrice and Benedick."
Telegraph
"Eve Best's Beatrice puts one in mind of a bluestocking spinster, fiercely intelligent, ironic and good-hearted but using her prodigious wit as a shield against hurt... Charles Edwards gives a superb performance as a feeling, thinking man who keeps pain at bay by pretending to be a cheerful silly ass."
Huffington Post
"A great pair in Eve Best and Charles Edwards... Best shows such real pleasure in the coming nuptials of Hero and Claudio that you know she's not really that averse to romance. And Edwards has great fun in undermining his own seriousness with the comical scene where he overhears gossip that makes it seem Beatrice truly loves him."
Spectator
"[Eve] Best is partnered by a superb Charles Edwards, and their relationship is fierce and bitter."
London Theatre
"The partnership of Eve Best as Beatrice and Charles Edwards as Benedick is certainly a winning combination... Charles Edwards is hugely convincing, as well as witty and intelligent, as Benedick."
Daily Express
"Best is spirited from the start and an absolute natural on the Globe's stage... he [Charles] always maintains an affability and charm which is crucial in keeping the audience on his side – and sometimes in fits."
Evening Standard
"Eve Best and Charles Edwards are a felicitous pairing, revelling in this 'merry war' of words."
Daily Mail
"Eve Best and Charles Edwards are a beautifully balanced Beatrice and Benedick, the reluctant lovers."
The Arts Desk
"He [Charles] spars naturally with Best, bringing both the roguish man of the world and ill-adapted lover to his wooing."
The Times
(Libby Purves, 28 May)
"Thoroughly foxy, seasoned stage actors absolutely triumph in one of the trickiest romances in the canon. Charles Edwards is an impertinently quiffed City-boy of a Benedick, matched by Eve Best as a striding, larky, bluestocking Beatrice."