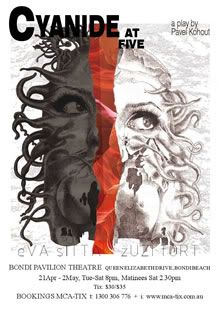 Two weeks ago, I saw
Cyanide at Five
at the Bondi Pavilion.
Cyanide at Five
is a play by Pavel Kohout that was inspired by Tecia Werbowski's novella
The Wall Between Us
. The production ran from 21 April to 2 May and starred Eva Sitta (Zofia), and Zuzi Fort (Irena). It was also directed by Eva.
Zofia is a very successful writer whose book about the Holocaust has had a tremendous impact on several people. Irena visits her to find out the truth behind Zofia's supposedly fictional story. What begins as an ordinary visit gradually turns into a conflict dealing with Catholicism, Judaism and cultural identity.
The rather weighty subject matter and wordy text were handled by Eva Sitta's nuanced direction, as well as the pacing and the overall tone of the play - in addition to Eva and Zuzi's excellent performances, the play's few moments of extremely dark humour were delivered with subtle irony.

L to R: Zuzi and Eva in Cyanide at Five. (Photo: Adam Sitta)
Since the production closed, I've had the opportunity to ask Zuzi Fort some questions about the play, and her career.
Zuzi is a Sydney-based actor, stunt performer, writer, director and bodybuilder. Screen credits include
False Witness
,
Packed to the Rafters
and
All Saints
; and theatre credits include
The Bridesmaid Must Die
(Riverside Theatre),
Tinsel and Ashes
(Carnivale's The Promised Land) and
Two Doses of Molière
(Belvoir St Theatre). She has a BA in Performing Arts from the University of Western Sydney, and a BA in Communications from the University of Technlogy, Sydney.
Putting on an independent theatre production seems like a very difficult undertaking. What have been some of the challenges you've encountered in Cyanide at Five?
Putting on a play is never easy but an independent production is hard because you have a shoestring budget and therefore you have to wear many hats, that is you don't just act but you help out in any way you can, that involves publicity, flier/poster distribution, costumes, props, etc. Usually you have to search for low cost items or plunder your house. Each performer is usually (after a consultation with the director and/or stage designer) responsible for their own costumes and props. Then trying to find a rehearsal space and time is always an issue since rehearsals are not paid (this being a deferred payment type of production) you have to fit it around your other jobs.
You've described yourself as a Jack of all trades. What projects are in the pipeline at the moment?
I have a number of theatre scripts I would like to stage, am looking at suitable spaces and times now and also thinking of actors who I'd like to work with. I am also working on a film idea and am trying to find a publisher for 2 of my manuscripts. Apart from that I am still involved in stunt work and coaching and of course being a mum [Zuzi has a five year old daughter, Kira].
You and Eva Sitta (co-star and director of Cyanide at Five) previously worked together on Tinsel and Ashes. Was it a conscious decision to work with her again?
This is really Eva's project, she found the play and organised the copyrights, theatre, etc. Then she started looking for actresses to work with and remembered me from
Tinsel and Ashes
, so she rang my old number to see if I were still living in Sydney. And the rest is history, I went for an audition and ended up getting the role and embarking on a fascinating journey.
The Australian federal government recently proposed an education overhaul. What do you think can be done to improve young people's education regarding the arts?
As for the young people and the arts, it is a passion of mine, I strongly believe audiences have to be reared, children have to be brought up (from a young age) to appreciate, value and enjoy; love the theatre. I believe theatre for schools should be subsidised and all schools (from kindergarten up) should attend productions regularly as part of the curriculum. I hope one day to do that. My dream is to have my own theatre company and a permanent space (which often is the hardest thing to find) and have a repertoire for evening shows as well as school performances during the day, with possible weekend productions for tiny tots and other events (cultural) in between including exhibitions, concerts, readings, etc.
Have you always wanted to pursue a career in the performing arts? Has your family influenced your choice of career at all? (Zuzi's mother Jana Haber is an actor and director)
I've pretty much always wanted to be an actor (well after a brief desire to be a general but when I discovered I'd have to go through all the ranks and take orders I went back to my original choice). Seriously, I have never really thought of any other career, I grew up either on a TV set, or backstage of a theatre. My mum realised that one can often learn more through meeting fascinating people and experiencing life so she often took me out of school and I've attended film festivals, concerts, exhibitions, her interviews and live events. I guess I was hooked. But mum was never what you'd call a stage mother, quite the opposite because she knew how hard and ruthless the industry was. In many ways she tried to dissuade me from pursuing that path, but here I am. Now she's 100% behind me.
So, yes you could say my family has influenced me because it gave me a taste for the performing arts, for all arts. (I've also found out that I have a composer, writer, painter, musician and a theatre director in my family. All unfortunately dead now but I suppose genes will tell.)
Related links
My previous post about the play [
link
]
Zuzi Fort interview from the Australian Jewish News [
link
]
Eva Sitta interview from the SBS Czech Program podcast [
link
]

Attribution spiffyjellybean, "Interview - Zuzi Fort" (retrieved [date])