Charles will play
Richard II
in a production directed by Simon Godwin at the Globe, 11 July – 18 October. Press night is Wednesday 22 July 2015 (
Shakespeare's Globe press office
).
Charles has performed at the Globe - he played Benedick in
Much Ado About Nothing
in 2011. Godwin previously directed Charles in
Strange Interlude
(National Theatre, 2013) and
Wanderlust
(Royal Court, 2010).

screencap source: ITV
Arthur & George
will be released on DVD 13 April (
Amazon
). Recent press about the series includes an
article
from the Birmingham Mail and a
review
from the Guardian:
"It has been translated sympathetically and successfully to the screen, with fine performances... Charles Edwards as Woodie, Sir Arthur's manservant/secretary/friend/sidekick, something between Jeeves and … Dr Watson."
Charles has done voiceovers for a book trailer (
Dance with Fireflies
) and the short film
Winds of Change
(via
hellyescharlesedwards
).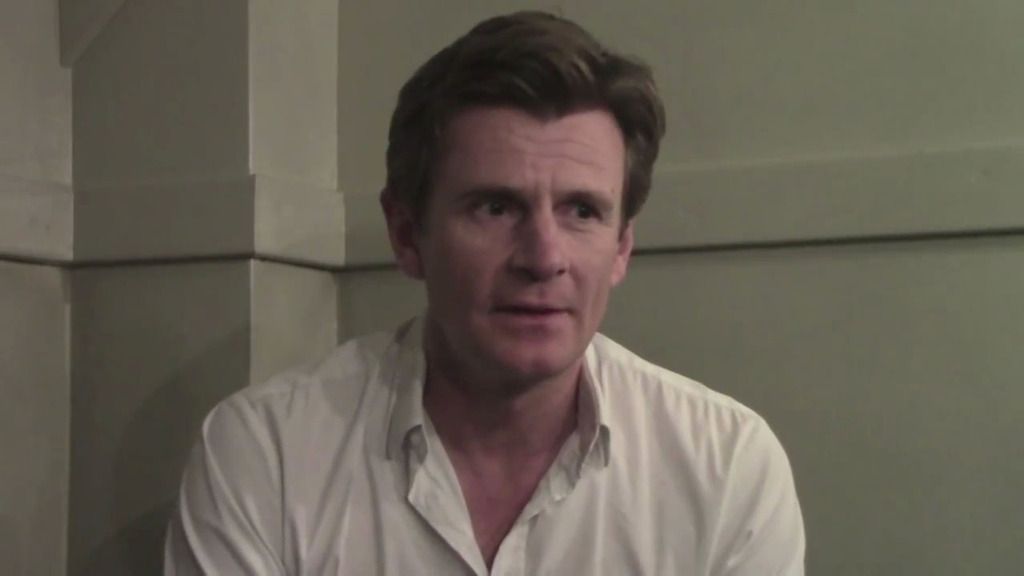 screencap sources: SHN and CityTV
The
Blithe Spirit
North American tour ends in Washington DC at the National Theatre 29 March. The play's
official website
has further details about tickets.
The following press round up has been categorised by city/theatre.
Washington DC (National Theatre)
Interviews
Reviews
DC Metro Theater Arts, "Charles Edwards proves a comical delight as Charles, who starts out so suavely composed and sure of himself until these two very different-seeming wives team up to accuse him of having a "weak will." Edwards shows us the funny side of male vanity, flayed and dissected through the genius of Noel Coward."
Baltimore Sun, "Edwards does impeccably timed work that recalls the lighter side of Cary Grant. And he gives Lansbury a run for her money in the department of prismatic facial expressions as things heat up between Wife No. 1 and Wife No. 2..."
San Francisco (Golden Gate Theatre)
Interviews
SHN
video interview
Simon Jones (Dr Bradman) mentions Charles' approach to Noel Coward's dialogue in an interview with
Groucho Reviews
:
"his approach to Coward dialogue is the most refreshing I've ever encountered... the way Charlie delivers his lines has made them entirely conversational. Sometimes he doesn't even finish a line, like conversations would be. But you know what the word would have been. Or he splits them up in the middle."
Reviews
Bay Area Plays, "some absolutely magical moments, most notably by Charles Edwards, who plays author and socialite fella Charles Condomine with a euphoric and conflicted flair... a dapper and debonair gent, a superb leading man"
Edge San Francisco, "As Condomine, Charles Edwards manages to inject his character with a charming (if rather spoiled) boyishness. And, as he veers between feeling tortured by his vying wives and basking in their jealous attention, we can't help but feel sympathy for his plight."
The Bay Area Reporter, "As Charles Condomine, Charles Edwards does solid and increasingly interesting work, as the reality of having two wives on the premises turns the character from amiable husband into an increasingly waspish budding misogynist."
Toronto (Princess of Wales Theatre)
Interviews
Reviews
Stage Door, "His use of pauses or coughs to emphasize a significant word brings out the wit in lines that often are passed over. His timing is perfect, and he is masterful in detailing Charles's ever increasing frustration..."
Torontoist, "Edwards is superb as the self-satisfied Charles"
Los Angeles (Ahmanson Theatre)
Interviews
Pictures from press night (
Society News LA
)
Reviews
Hollywood Reporter, "Edwards conjures equal doses of charm, wit and buffoonery, effortlessly walking the line between suave and silly, and never losing the audience's sympathy, no matter how self-absorbed his behavior becomes."
Neon Tommy, "a nuanced, three dimensional performance from Edwards"
Gardena Valley News, "Charles Edwards is perfect as the dashing writer, Charles Condomine... as the Brits would say, "Spot on.""