[updated 7 December]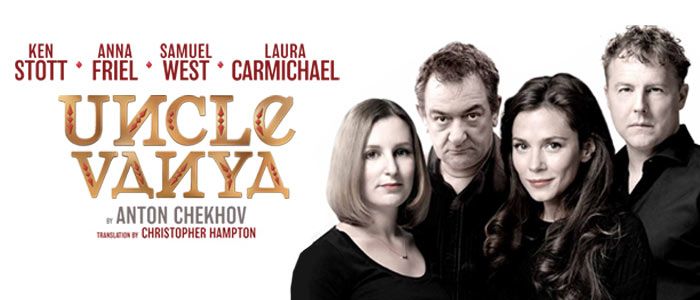 (Source: Nimax Theatres. Used with permission.)
Uncle Vanya
had its press night on 2 November. Pictures from the after party can be viewed at
Getty
and
wooller.com
An
ITV news story
features an interview with Anna Friel and Laura Carmichael, as well as a short clip from the play.
A selection of review excerpts is below.
Bloomberg
"Samuel West gives a terrific turn as the drunken Doctor Astrov."
British Theatre Guide
"Samuel West is a particularly good Doctor Astrov, a failed arboricultural trendsetter suffering from low esteem and alcoholic excess..."
londontheatre
"the performances on display here are quite exceptional... There is terrific support from Samuel West as Doctor Astrov, obsessed by deforestation..."
Independent
"... in a subtly restrained portrayal of Astrov, the excellent Samuel West conveys the clinical clarity with which this doctor registers a confining inabilty to feel for people what he feels for trees."
Evening Standard
"West nicely conveys Astrov's complexity. He is a mix of disillusionment and energy; he seems exhausted by the experience of being pulled in different directions..."
Telegraph
"Samuel West captures both the ecological idealism of Dr Astrov, whose concerns about deforestation seem almost spookily prophetic while also bringing a compelling coldness to the role."