[updated 22 October]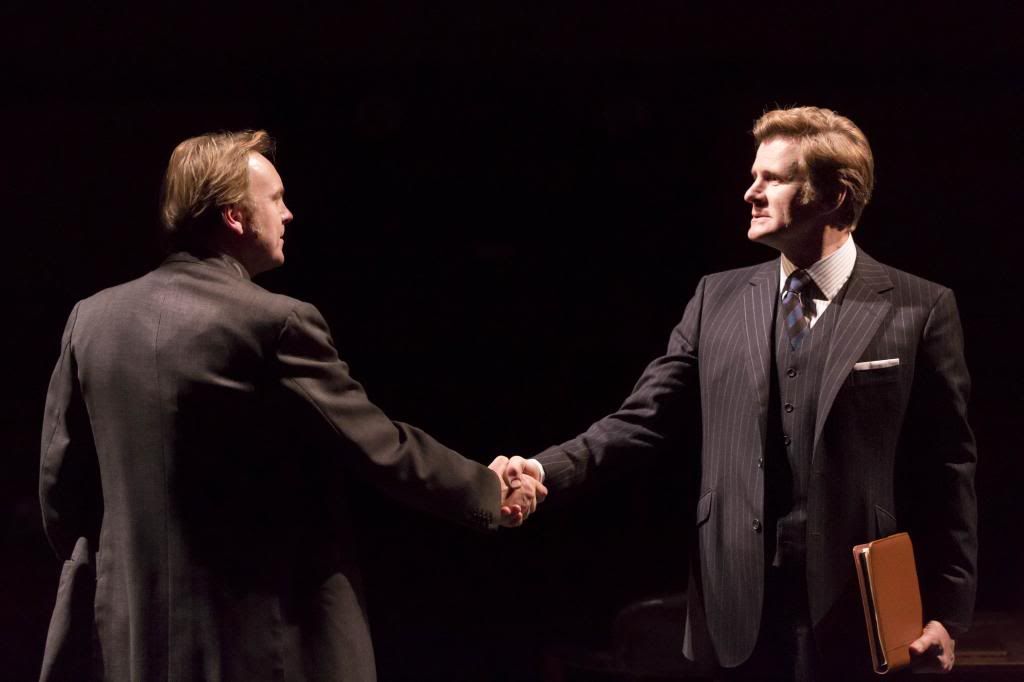 Philip Glenister as Walter Harrison and Charles Edwards as Bernard Weatherill. Photo: Johan Persson (used with permission).
Guardian
"Philip Glenister, Vincent Franklin and Andrew Frame as working-class Labour whips, Julian Wadham, Charles Edwards and Ed Hughes as their smooth-suited Tory equivalents and Christopher Godwin and Rupert Vansittart amongst the role-swapping ensemble are outstanding."
Telegraph
"Special praise must go to Philip Glenister as a truculent old bruiser of a whip with a warm heart beating somewhere beneath his tough facade, and Charles Edwards as his suave, sharply suited Tory opposite number who in the grubby world of Westminster suggests a genuine generosity of spirit."
Daily Express
"Charles Edwards is hugely enjoyable as the unrufflable Tory deputy chief whip Jack Weatherill"
Financial Times
"[James Graham's] central characters are vividly, likeably detailed, brought to life by an excellent ensemble, in which Philip Glenister as Labour's blunt Walter Harrison and Charles Edwards as the Tories' suave Bernard Weatherill particularly shine."
Observer
"The cast is fantastic... I particularly enjoyed the complex, rather chivalrous relationship between Walter Harrison, the Labour deputy chief whip played by Philip Glenister, and his Tory opposite number, Jack Weatherill played by Charles Edwards."
The Times
(Libby Purves, "Brilliant evocation of day when power hung in the balance", 10 October)
"Julian Wadham and Charles Edwards are marvellous Tory whips — Wadham unrepentantly patrician, Edwards subtle as Bernard Weatherill, whose cross-party friendship with his opponent Harrison is genuinely affecting."
The Angle News
"Edwards was mesmerising as he subtly brought out the nuances of Weatherill, the suave, competitive but ultimately humane politician."
The Spectator
"The show's undoubted star is Charles Edwards who plays the suave and cunning Tory whip, Jack Weatherill... he can find a laugh where neither the script, nor the situation, appear to suggest it. He's more than a gold prospector. He's a gold mine. Invaluable to any cast."