[updated 22 May]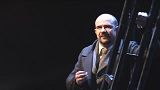 Screencaps from the play's trailer (click the thumbnails for full size).
This week,
Close the Coalhouse Door
will be performed at the
Lawrence Batley Theatre
.
Sam has been interviewed for this week's
"Big Interview"
in the Yorkshire Post.
Last week, a radio version of the play was recorded at BBC Manchester. It will be broadcast on BBC Radio 4 around September (Sam's Twitter, @
exittthelemming
). Pictures from the recording have been tweeted by Louisa Farrant (
1
|
2
|
3
|
4
),
David Nellist
and
Sam Kenyon
.
The following review excerpts refer to performances at the Lowry and the Richmond Theatre.
The Daily Post
"The cast and Samuel West's fine direction ensure that the true stars of this highly entertaining piece are Plater's writing, together with Glasgow's songs."
Evening Standard
"Samuel West's perkily Brechtian production extracts every drop of drama from the myriad mini-scenes and tips knowing winks at gags us soft southerners are unlikely to get."
whatsonstage.com
"Featuring the talents of Lee Hall - who adds additional material to Alan Plater's original play, directed with verve and passion by Samuel West - this is a play that demands to be seen."