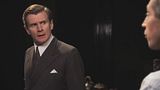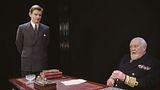 (A selection of screencaps from clips uploaded at the KingsSpeechPlay Youtube channel. Click thumbnails for full size and see alt text for clip sources.)
Interview
whatsonstage.com
West End press night
Videos:
dailymotion
(via
hellyescharlesedwards
)
KingsSpeechPlay
Pictures:
wooller.com
Broadway World/Rex Features
Reviews
Variety
"[Edwards] vividly conveys a kind of physical and emotional blockage which prevents him from speaking. But he also allows audiences to see how this is at war with the stiff, formal demeanor permanently required of a man of his station. It's not his costumes that give him status and emotional weight, it's his performance."
Fourthwall
"In a restrained, pitch-perfect performance, Edwards is exceptional; riveting and beautiful and in this he is evenly matched by Hyde. Noble entices two intelligent, thoughtful performances from his leads..."
Evening Standard
"Edwards perfectly conveys the agony of Bertie's struggle to wrench words from within himself, as well as the restraint involved."
The Good Review
"[Edwards] is completely believable as the reluctant monarch whose decency and courage shine through in his battles with the speech impediment which has blighted his life."
whatsonstage
"[Edwards] he pulls it [the role of Bertie] off with aplomb... Edwards lends him a childlike sensitivity."
The London Magazine
"Charles Edwards gives a technically astounding performance as the stuttering royal, swearing, singing and dancing his way through the speeches that terrify him."
Time Out
"As the shy, dutiful man nicknamed 'B-b-b-bertie' by his careless elder brother, Charles Edwards is outstanding... Edwards has been on the cusp of a major breakthrough for some time. Let's hope this richly appealing but MOR prequel to 'our finest hour' is a vehicle to the stardom he so richly deserves."
British Theatre Guide
"Edwards is magnificent as an insecure, self-effacing stammerer who has been mentally abused since childhood by everyone from his bombastic father played by Joss Ackland onwards."