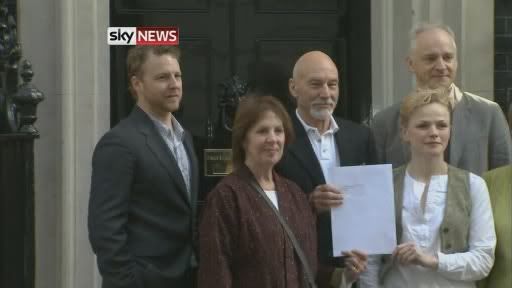 (My screencap; video source - Sky News)
Sam is the reader for an episode of
Lost Voices
about Herbert Read - it will be broadcast next Sunday on BBC Radio 4 at 4.30pm.
Scene & Heard
has shared
pictures
of Sam, Tom Goodman-Hill, Hugh Bonneville and other patrons attending a performance of
Twist and Turn
.
On Friday morning, Sam appeared on
BBC Breakfast
to talk about
cuts to arts funding
(his Twitter, @
exitthelemming
). Afterwards, he went to Downing St to deliver an
anti-cuts letter
, with Patrick Stewart, Penelope Wilton, Malcolm Sinclair, Maxine Peake and Christine Payne (video from
BBC News
, the
Press Association
, Sam's live tweeting
1
|
2
|
3
).
The previous evening, Sam gave a speech at the
Berry Theatre opening gala
(pre event tweets from @
HiccupTheatre
, @
exitthelemming
). Security guards danced during the gala! (
live tweeted
by Sam). @
PointEastleigh
and @
HiccupTheatre
complimented him on his "inspirational" and "inspiring" speech, which was about the importance of theatres in people's lives (@
TheatresTrust
). @
theberrytheatre
reflected on the event as "a night we won't forget"; Sam has
described
the theatre as "a ray of hope in dark times."