[updated 3 October]

Artist: Joe Hill. Source: lordstaverners.org
A Harold Pinter celebration took place at Lord's Cricket Ground yesterday - a celebrity cricket match at Lord's Nursery Ground was followed by a tribute in the Long Room. A portrait of Pinter by Joe Hill was auctioned as well. Proceeds from the celebration will go towards purchasing a minibus for the cricket-loving kids in Hackney.
People who attended include Lady Antonia Fraser, Janie Dee, Peter Hall, Bill Nighy, Jeremy Irons, Jason Isaacs, Roger Lloyd Pack, Samuel West, Timothy West, Penelope Wilton, Harry Burton, Fintan McKeown, Dickie Wyse, Roger Davidson, Ian MaKinnon, Ben Nealon, Robert Powell, Paul Smith, Michael Billington, Somit Dutta, Mike Brearley, Mike Atherton, Mike Gatting, Jeremy Coney, Ian Smith and Chris Tarrant.
Bill Nighy was interviewed on
Today
last Saturday and he mentioned there would be "songs from Janie Dee" at the tribute. His interview is on
this page
(scroll down to 0851).
An excerpt from the Guardian:
"...Theatrical readings in the evening will see [Jeremy] Irons take to the stage with Tim West to perform an excerpt from No Man's Land, and [Mike] Brearley reading from The Caretaker..."
A tweet from Sam West about the game:
At Lords playing for Taverners vs Gaieties for Pinter celebration. Our opening pair Atherton and Gatting. I'm in at number eight. Oo-er.
I tweeted Sam about the celebration (and thanks to him for replying!):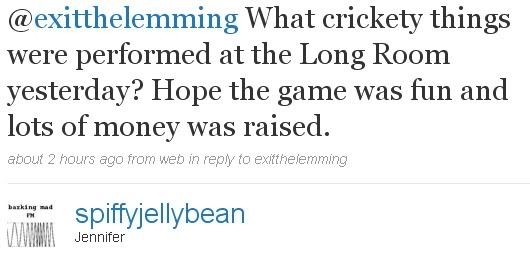 A recap of the celebration is
here
at Cricket Family.
Links
The Lord's Taverners
1
|
2
The Independent [
link
]
Guardian [
link
]
Telegraph [
link
]
The Arts Desk [
link
]
whatsonstage.com [
link
]