[updated 19 March 2011]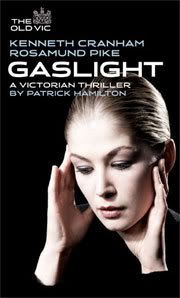 Reviews
Guardian
"...Rosamund Pike also gives a good account of the persecuted Bella... palely beautiful and suffering valiantly, Pike also implies Bella is corrupted by her husband, and at the last confirms Auden's point that those to whom evil is done do evil in return...."
London Theatre Guide
"...Rosamund Pike, who is quickly forging a reputation as one of the West End's most dependable leading ladies [...] creates a Bella who is flighty and a touch melodramatic..."
Telegraph
"...Rosamund Pike breaks your heart as his pale, cowed wife..."
whatsonstage.com
"...we see Rosamund Pike go to pieces and then find her feet in emotional turmoil, damaged but not beyond rescue if life should deal her a better hand in future. It's a beautifully plotted performance in a play that still stings in its analysis of a cruel marriage as a criminal strategy..."
Daily Mail
"...fair Rosamund alone is worth travelling a long way to catch..."
theatre.com
"...showing stage power and panache...she's immediately arresting from the start..."
Observer
"...she comes into her own in the part's more surprising moments, as a sharp-witted victim who will take her own sadistic revenge..."
The Times
"...Pike invests her [Bella] with real innocence and a sudden, climactic attainment of some strength of character that almost makes you cheer..."

Bloomberg
"...Possessing the translucent beauty of Grace Kelly in her prime, Pike is terrific in the part..."

The Daily Express
"...The impossibly luminous Rosamund Pike pitches Bella's fragility and desperation just right. She is all fraught and frenetic, nervous and frantic, with an edge of manic hysteria..."
The Stage
"...her portrayal comes into its own as the plot thickens, with a superbly played revenge scene to round things off..."
New Statesman
"...[Pike] manages to inject real distress into a woman who doubts her own sanity..."
Reviews Gate
"...Tall and energetic, Rosamund Pike isn't the immediate idea of the put-upon wife, but her lightness of voice, and the grace of her movement create a sense of timidity, someone browbeaten into submission through uncertainty about herself..."

Video blogs
Meet the cast
The final week
Articles
Telegraph
Evening Standard
Daily Mail
Independent
Pictures
Production:
Ellis Parrinder photography
Rex Features
- search for "*671051"
Isifa
Alastair Muir/Telegraph
unknown/New Statesman
Opening night:
What's On Stage
Getty
Rex Features
- search for "*671173"
Isifa
theatre.com
{Sam West was at the opening night party, there's a picture of him at Getty. search for "#74624981"}