[updated 19 February 2014]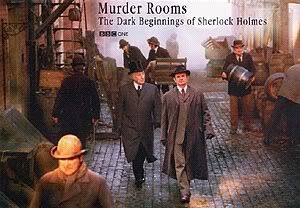 The
Murder Rooms
series began with a pilot,
The Dark Beginnings of Sherlock Holmes
, in which Charles does not feature. The pilot was followed by the episodes "The Patient's Eyes", "The Photographer's Chair", "The Kingdom of Bones" and "The White Knight Stratagem".
Articles
Excerpt from "Sleuth, Doyle cracks it again" (
Daily Record
, 8 September 2001)
Charles Edwards, who plays the tenacious Doyle, admits that he was initially apprehensive when asked to play the TV role.

He says: "I have never played a role of this size on TV and I felt very green when I started."

Charles grew up the youngest of four brothers near Haslemere in Surrey and an acting career was the furthest thing from his father's mind who wanted his sons to follow him into the financial world.

He says: "I couldn't imagine doing that. Catching the train at ten past seven every morning, the repetitive routine - a nightmare."

His rise up the acting ranks has been steady since he left drama school nine years ago.

Period pieces on TV have included Longitude with Michael Gambon and the movie Mansfield Park with Frances O'Connor.

But it was his performance in the award-winning production of All My Sons at the Royal National Theatre that was responsible for his casting as Conan Doyle in Murder Rooms.

To perfect his TV role, Charles poured himself into researching Conan Doyle's life.

He says: "You have to research something like this but, at the same time, the premise of these films is often speculative so you do have some license to impose your own ideas.

"There's also a balance to be struck between being authenticity and distracting from the drama.

"For instance, Doyle had an enormous moustache from the age of 17 and I don't sport one."

Moustache or not, Charles is magnificent as Conan Doyle.
Excerpt from "Elementary dear Watson, or is it?" (Herald Sun, 27 January 2002)
[on Ian Richardson, who played Dr Bell] "I had always been aware of him, of who he was. Of his work. And I guess I was a little apprehensive at first -- working with him.
But I found him wonderfully funny -- grave, but funny.
It was chilling really, watching how he did what he did. And he was good at spotting times when I needed him."

...For the Dr Bell and Conan Doyle thing to work, as an investigative team, Edwards and Richardson had to bond if they were to work together for the six months it would take to make the four telemovies.

"But when you are both in the make-up truck at 5am every day, it's not hard to bond. The material you're working with also helps."
Reviews
televisionheaven.co.uk
Sydney Morning Herald (review of "The Patient's Eyes" by Robin Oliver, 28 January 2002)
An interesting casting change brings in Charles Edwards (
Mansfield Park
) as the impetuous Doyle now a doctor in his own right. Edwards plays the lovelorn Doyle with aplomb, a nice partner upon whom Richardson can work his spells.
United Press International ("The Game's Afoot, Doyle!" Martin Sieff, 6 August 2002)
Robin Laing played the part of Conan Doyle well in the pilot film. Charles Edwards took over in the current series and is even better... earnest and a striking and intriguing mix of genius, masterful intellect and ingénue... Richardson and Edwards are also served exceptionally well by the scripts, direction and general production values...
Murder Rooms
is no ordinary or predictable detective drama. It cannot be recommended too highly.
The Leader Post
Charles Edwards as Doyle and Ian Richardson as Bell make a superb team as they tackle a series of seemingly baffling crimes… Atmospheric locations, splendid acting, and great stories.